| Project Name | Client Name | Project Timeline | Skills and Technologies Used |
| --- | --- | --- | --- |
| Fundraising Political Campaign Website | Ebbon A. Allen | 12 Days | HTML, CSS, WordPress, WPBakery |
Project Description
Our latest project, the "Political Campaign Website for Ebbon A. Allen" was a mission to increase awareness and raise funds for a cause that truly matters. Ebbon A. Allen is not just a politician; he's a dedicated advocate with a fervent commitment to bettering the lives of Washington, DC's Ward 7 residents.
Challenges and Solutions
While creating this website, we encountered challenges, including slow hosting, which required an upgrade. Additionally, there were some theme-related hiccups due to updates. However, with perseverance and teamwork, we resolved these issues and successfully delivered the website.
If you are looking to create a website for your business or any purpose, you should go with good hosting. If we have to recommend you, our favorite hosts are HostArmada #1 (We personally use it to host our all websites), Bluehost, A2 Hosting, and Hostinger. You can choose one as per your requirements. If you need our help, contact us for a FREE consultation.
Project Feedback
We're delighted to report that we not only earned an amazing review and a generous tip but also expanded our network with an impressed individual who saw our work.

"Great work. We ran into some technical issues with the hosting site, but that did not stop him from doing what needed to be done. Great job and I would work with him again."
Project Outcome
The outcome was nothing short of remarkable. This website, built on WordPress with the WPBakery page builder, utilized a premium political campaign theme from ThemeForest. We designed all the pages in WPBakery, ensuring a customized and engaging user experience.
Ebbon A. Allen's vision, determination, and commitment to his community shine through in this project. With this website, we've played a part in advancing a brighter future for Ward 7, where the potential of every young person is unlocked and celebrated.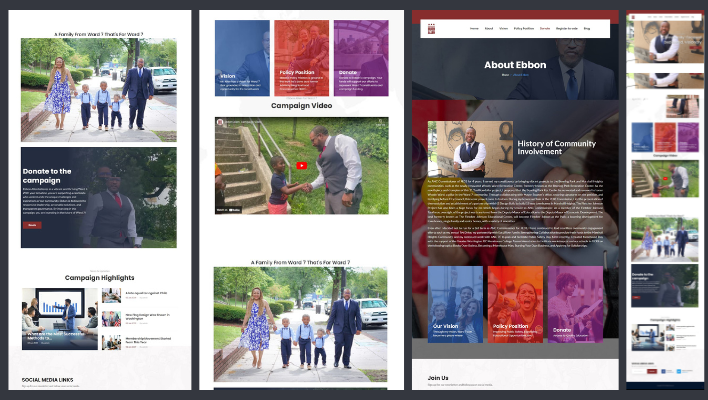 Together, with Ebbon A. Allen as your Ward 7 Councilman, the community can thrive and flourish, creating a legacy of empowerment and progress.
This project exemplifies our dedication to impactful web development and our passion for contributing to causes that matter. We're proud to have been a part of this endeavor, working towards a better future for Ward 7 residents.
Checkout More Web Dev Projects