Are you a business owner looking to create a website for your business? Look no further! By reading this article, you're taking the first step toward creating a successful online presence.
Starting a website can be a daunting task, but don't worry, we've got you covered. This step-by-step guide will walk you through the process of creating a WordPress website from start to finish.
Whether you're new to the world of website building or you're a seasoned pro, this guide will provide you with all the information you need to create a professional-looking website for your business.
Our goal is to make the process as simple and straightforward as possible so that you can focus on growing your business. By the end of this article, you'll have a website that's mobile-responsive, SEO-friendly, and visually appealing.
So let's get started! Follow our guide on "How to Create a WordPress Website" and take your business online today.
Note: This article is lengthy and will take time to read completely step by step for better understanding.
As a business owner, creating an online presence for your business is crucial in today's digital age. A website can help you reach a wider audience and showcase your products or services. But how do you create a website?
Choose WordPress, a popular and user-friendly platform for building websites. With this step-by-step guide, you'll learn how to create a WordPress website that not only looks professional but also helps drive traffic and increase conversions.
But remember, creating a professional website takes time and effort. So, let's get started on building your business's online presence!
Why you should create a website for your business?

Creating a website for your business is crucial in today's digital age. With so much competition, having a strong online presence is essential to stand out and reach a wider audience. Here are some reasons why you should consider creating a website for your business:
Increased Visibility: A website increases your visibility and reach. You can reach a larger audience worldwide.
Better Credibility: A professional-looking website shows that your business is legitimate, trustworthy, and serious about its operations.
Cost-Effective: Having a website is cost-effective compared to traditional marketing methods. You can reach a large audience at a fraction of the cost.
Improved Customer Service: Your website can serve as a 24/7 customer service center, providing customers with the information they need at their convenience.
Better Branding: Your website is an opportunity to create a strong brand identity that sets you apart from your competition.
Better Understanding of Your Audience: With tools like analytics, you can gain valuable insights into your audience, allowing you to target your marketing efforts better.
What is a Better Option, a Free Website or A Self Hosted Paid One?
There are 2 ways to create a website or blog – one is Free with subdomains like iframewebsolutions.wordpress.com and the other is Paid, in which you will need to buy a Top Level Domain and Hosting to store your all blog content online.
Are you confused, what is it? Don't worry, later, I'll explain in detail, what is Top Level Domain and Hosting)
In starting a website with paid services, you will typically have to invest $50-60 (₹3500-₹4200 around) for a year (maybe more or less according to the hosting plan as per requirements).
What are the Top Level domains and hosting?

Let's understand the Domain and Top Level Domain
If you do not already know, I would like to clear your doubts ―
Domain Name – Domain Name is in a way the name of the website that we type in the Browser, as here in my case "iframeweb.com" is a domain name.
https://iframeweb.com is the URL of the website you are reading the article.
There are mainly four parts in the domain:
HTTPS: // (Hypertext Transfer Protocol)
www (the subdomain)
iframeweb (Domain name, it is in my case, amazon, google, Facebook, etc these are domains)
.com (This is called the Top Level Domain, like .com .Org .Info .Net, .Co.in, .in, etc. that appear at the end of the domain name)
What is Hosting
Web Hosting – Web Hosting is a place where all the files of your blog are online stored. When someone accesses your blog, it opens online on the user's phone/computer device.
Hosting can be considered as a hard disk of a computer, which stores your blog's data (images, posts, pages, and other files) securely. These hosting companies keep in their servers which charge you for hosting Per Year or Per Month basis.
Starting a blog with paid services is always a better option. You can make money from both, a Free blog and a Paid one.
But the difference is that you want to travel from Mumbai to Delhi and you have two options. One is a Bicycle and the second is a car/airplane. So, the free website is like a Bicycle, and paid one is like a car/airplane. (You get more features, functionality, and freedom to customize and control when you go with a domain and own hosting plan)
Blogger.com, Wix.com, WordPress.com, etc. There are so many platforms where you can create Free Blog but there will be some limitations.
Therefore, I would advise you that you should not make a Free Blog if you want to make running a successful business.
More reasons I'll explain later, are why should you start a blog with paid resources. Still, if you wanna create a free WordPress website (Blogger is also a similar platform to create a free website or blog)
How To Create A Free Website on Blogger or WordPress?

Your blog name will look like this, YourBlogName.blogspot.com YourBlogName.wordpress.com or YourBlogName.wix.com, which is much longer and harder to remember than Paid Blog, YourBlogName.com.
You will have limited options available to design your blog, whereas in Paid Blog you can design every element of your blog according to you.
When selling something and wanting to accept payment or monetization (advertising on your blog) you may have a lot of problems. Because advertisers and clients will not take you very seriously and your earnings will be affected.
Lastly, most importantly, your website/blog content will not be under your control, in this case, if any of your wrong content is posted or anything goes wrong, then your blog may get suspended or deleted, in that case, you can do nothing.
I hope that after knowing these above reasons, you must have understood why you should not start Free Blog. But still, if you want to create a free website, then you can.
Now,
How to Create a WordPress Website (Step-by-Step)
Here I am explaining 10 Steps to create a professional and Self Hosted Blog. All steps are very easy to understand even if you don't have any basic knowledge about this.
I am breaking up the article into 10 steps for better understanding.
Step: Choosing the Right CMS
Step: Buying a Good Domain for your business website
Step: Choosing a Good Web Hosting Provider
Step: Set Up WordPress To Make Your Website Live on the Web
Step: Designing Website using a Responsive and Attractive Theme
Step: Installing and activating some necessary plugins to manage the website
Step: Writing and publish the first article
Customizing Your Website
Step 1: Choosing The Right CMS
CMS or Content Management System is mainly a Platform for creating and managing websites and their content; like Blogspot, WordPress, Joomla, Drupal, and Wix.
These are the platforms that allow you to build and manage your business website. In this article, we will explain how to do it in detail.
Among the many website-building platforms available, WordPress is the best. While some businesses run their website on other platforms like Blogspot, we strongly recommend using WordPress.
Here are the main reasons to choose WordPress for your business website:
WordPress is a free platform for building a website.
It has a user-friendly dashboard and it is easy to design a professional-looking website on WordPress.
With over 30000 free and paid themes, you can customize the design of your website to meet your business needs.
There are over 55000 plugins available to help you manage and improve your website. You can easily run your website without needing any programming or coding skills.
If you need any help with setting up your website, you can join the WordPress Forum where their team and community provide excellent support.
WordPress is highly popular and widely used. Approximately 98% of websites in the world are built on WordPress.
Therefore, we recommend using WordPress CMS for building a business website.
Step 2: Find And Register A Domain Name For Your Blog
In the previous steps, I have already explained what a domain is.
Choosing a domain for your business website is crucial. A great domain name can make a big difference in attracting potential customers and building brand recognition. Here are some things to keep in mind when choosing your domain name:
Short & Simple: Your domain name should be short and simple to make it easy to pronounce and remember.
Use Keyword: Try to include a relevant keyword in your domain name to make it easier for search engines to find and rank your website.
Avoid using Numbers and Hyphens: It's best to avoid using numbers and hyphens in your domain name as they can be confusing and difficult to remember.
Avoid Adjacent Double/Triple Letters: Try to avoid domains with double or triple letters as they can be confusing and people may forget to include the repeating letters.
Use TLD (Top Level Domain): Choose a top-level domain (TLD) that aligns with your target audience. For example, if you're targeting a global audience, choose a .com TLD. If you're targeting an Indian audience, a .in TLD might be more appropriate.
Once you've decided on your domain name, you can buy it from companies such as GoDaddy, BigRock, or NameCheap. These are some of the top domain providers in the world.
Here I am showing the example of Godaddy.com
Open the Godaddy.com website and search for your domain name. Here I searched for the domain name BloggingWheel.com, and luckily it was available.
After finding an available domain name for your business, you can proceed with the registration process on the site and make the payment via your Debit/Credit card or any available method.
Watch this video to learn how to find a good domain name and how to book a domain name.
Step 3: Choosing a Reliable Web Hosting for Your Website
You have selected your domain name for your business website.
Now, you need a reliable and secure web hosting provider to store your data online and make your business website accessible worldwide.
When you create a website for your business, it will have text, images, videos, and other important information related to your products or services. To store all these things on the internet, you need a web hosting service.
I recommend HostArmada as the best and most affordable web hosting provider for business owners. We are hosted with them. They offer a huge discount on their THREE-Year Plan along with a free domain and SSL. Their support is excellent, making it perfect for beginners. Their services are user-friendly, affordable, and have good uptime, providing fast site speed.
Alternatively, if you are on a tight budget, you may consider Hostinger as a good option. They offer cheap plans with great service and their web hosting services are reliable and secure.
We are using HostArmada services for more than 6 months. We never faced any problems. Their support team they are 24×7 available and the best part is they get connected in a few seconds or minutes.
For business owners, the process of setting up a blog on a web host is similar to what has been explained. However, I would like to emphasize that when choosing a web host, it's important to consider factors such as cost, support, uptime, and the reliability of the host.
SiteGround is a popular web hosting provider that offers good services. However, it might be a little pricier compared to other web hosting providers.
If you want to follow the tutorial and set up your blog on HostArmada, On all hosting sites almost all the the steps will be similar, but the options might be slightly different. Nevertheless, all web hosting providers have a similar cPanel, so the options will be almost the same for all shared hosting plans.
Follow these steps to get web hosting for your first blog:
Step 1: Visit the HostArmada Pricing Page and click Get Started, the page will look like this: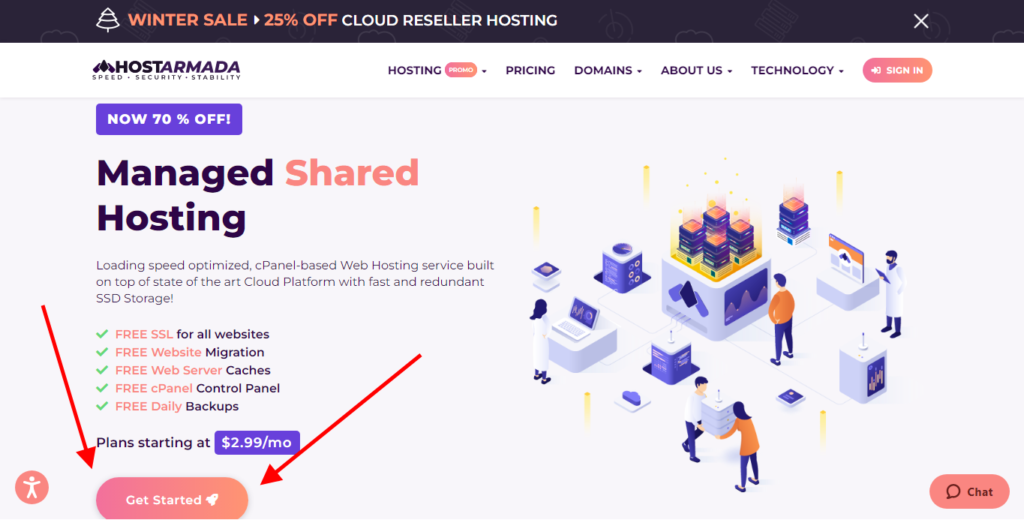 Now choose a plan according to your need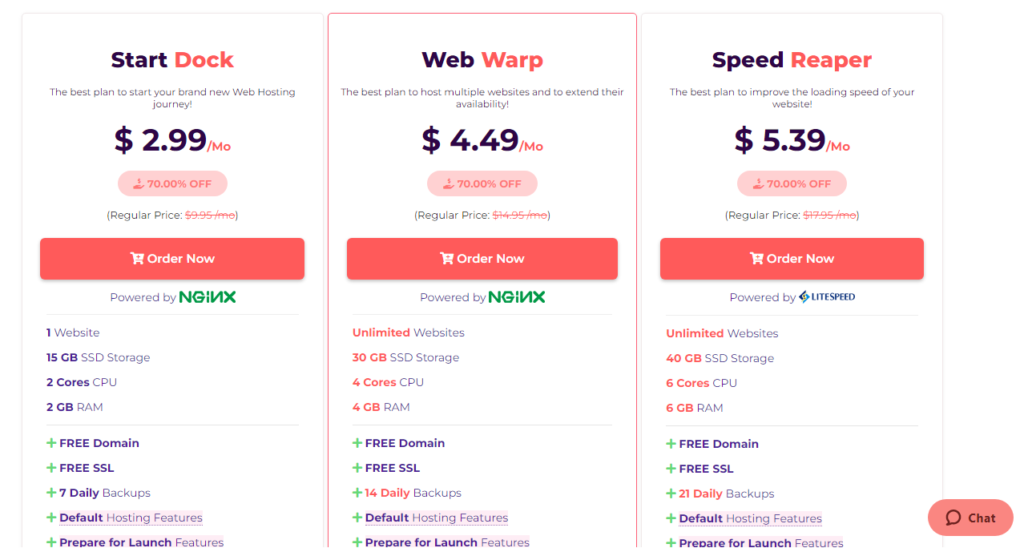 I recommend the WebWarp or Speed Reaper (for improved speed) plan. You can host unlimited websites. Best choice if you plan to have any more sites in the future. This plan will work for that too. Click the Order Now or Select Plan button.
Step 2: Choose a Domain Name
Enter the domain name you would like to use for your website, you can also register New Domain here.
If you have purchased already, select I will use my existing domain and update my nameservers.
Step 3: Choose Billing Cycle and select data center (Nearby to your country) Fill In Your Account Details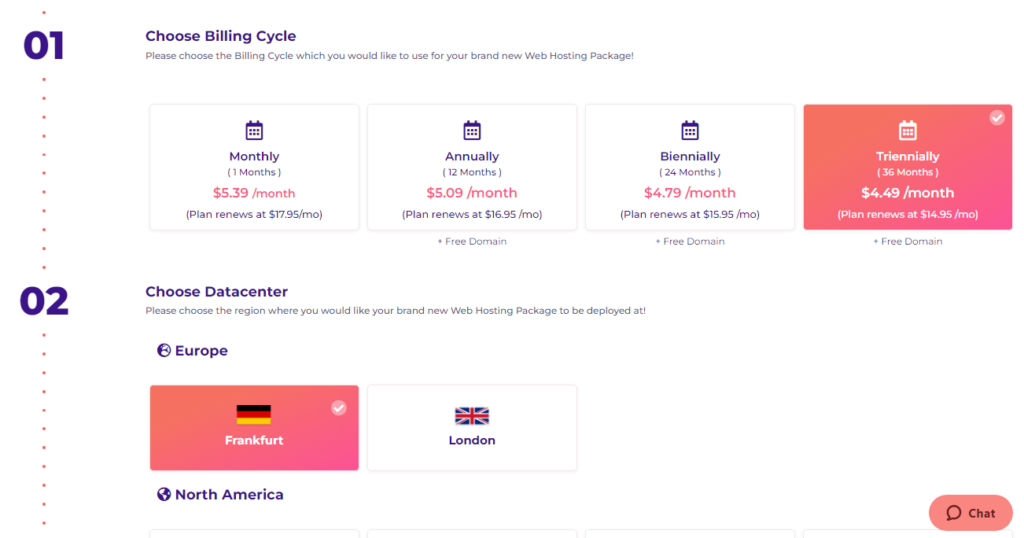 Next, Do not Select Addon Boosters, we don't need any.
Click On Preview Order Button.
Fill in the required information asked on it. These details will make up your account.
Step 4: Enter Your Credit/Debit Card Information or pay via any methods according to your comfort
Step 5: Agree To The Terms & Click The Proceed Button
Confirm the Terms and Conditions then click Complete Order and make payment.
It will take a few minutes for HostArmada to ready up your web hosting account and get your domain name ready.
Wait a few minutes, then check your email for important details related to your account.
After that, log into your SiteGround account and move to the next step
Step 4: Set Up WordPress To Make Your Website Live on the Web
Installing WordPress is not as difficult as a milestone, as people think.
it's easy…
All that we need is information about it and proper guideline.
Here I will explain to you step by step how you can set up your website on WordPress and make it live on the Internet. So let's dive into this…
First of all, after purchasing Hosting, log in to your HostArmada account if you aren't already. On the client area/dashboard on this URL https://my.hostarmada.com/clientarea.php.
You will see an interface on your screen similar to this:
Here, Scroll down to view Your Services with HostArmada and You will see this page as shown below. Now click on the cPanel icon see the screenshot below: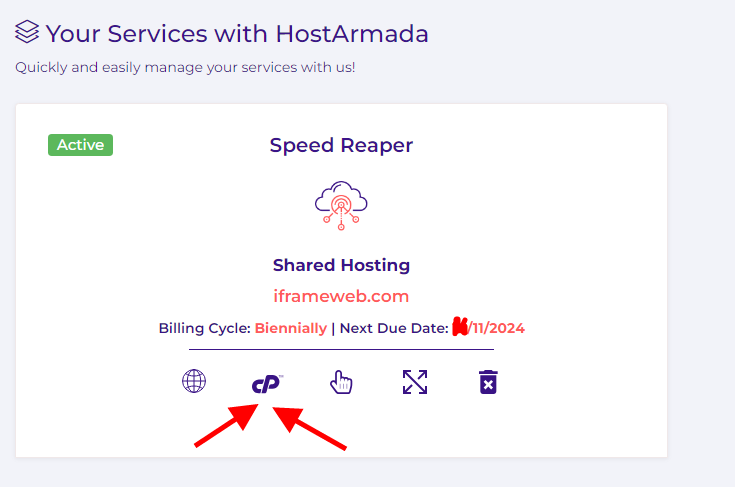 Now scroll down and look for WordPress Manager by Softaculous in the softwares or left side, click on it.

Now, this is the most important part. Here we will create login details, Website name, and description (Which can be changed late from inside the admin panel) for our WordPress Website.
Here are 4 important steps:
Choose your domain, if you have only one domain it would be auto-selected (in my case I have more than 1 domain in my account so I am seeing a dropdown to select a domain)
Website name; For our case, we have "iFrameWeb Solutions"
Site Description: A short description in a single line. For us, we have a "Website Development, SEO, and SMM Agency"
Admin username, password, and email (Keep these things secret, do not share with anyone)
After filling in all the details, Click on Install
It will take a few seconds or a minute. WordPress will be installed on your server. You can always log in to your website admin panel through the URL: https://YourDomain.com/wp-admin/
You will also see this on the installation success page. Note it down or remember it. You'll need this frequently whenever you log in.
Click on https://YourDomain.com/wp-admin/ or type in your browser and,
Replace YourDomain.com with your domain name and visit that link. It's the URL to your WordPress dashboard where you can manage your site.
You will be redirected to the WordPress login page where you will have to log in with your login details (which you choose during the installation):
That's it. Congratulations! You just set up your first WordPress Website.
Now, it's time to customize it
Step 5: Designing The Website Using a Responsive And Attractive Theme
Now that you have your WordPress site up and running, it's important to give it a more professional look by changing the default theme. The default theme may look good, but it's not optimized for business websites.
The design of your website is crucial for attracting and retaining visitors. A good design can grab their attention and encourage them to engage with your content.
If you're starting a website as a business, it's important to understand the value of investing in a good theme. Although there are many free themes available, I highly recommend Astra, GeneratePress, MyThemeShop, Genesis, and OceanWP.
On ThemeForest, you can buy a premium theme if you can invest or a Free theme is also a good-to-go option. you can choose from a wide range of categories, including creative, retail, technology, real estate, education, and more.
I personally use GeneratePress on this website and my other blogs. It's a lightweight theme, with a size of only 50KB, which contributes to the quick loading speed of your site. GeneratePress is one of the most customizable themes and is user-friendly, providing all the features you'll need for your blog.
If you prefer to use free themes, you can easily find and install them from the Themes menu under the Appearance menu in the sidebar.
Now, click the Add New button to find a new theme for your blog:
Now, scroll down until you find a better theme that you like or you can search for a theme:
In the Themes section, you will find a lot of free themes. Take your mouse over the theme and click the install button to install the theme.
But if you have already purchased or you have a Zip File of the Theme, then you have to click on the "Upload Theme" button.
It will take a few seconds for the theme to install. Once the theme is installed click the Activate button on the theme you installed.
This will activate the theme. (At a time only one theme remans active and the other one will be deactivated automatically)
Now, visit your website's domain name to see what your website looks like.
So now, we have successfully installed a great theme in our blog, now customize it as you want it to look.
Before starting to write on the blog, let's talk about some important plugins, with the help of which you can optimize your blog. Also, these plugins are necessary for the security of your blog.
Step 6: Plugin Installation Required to Manage Blog
It is very difficult to run a WordPress blog without plugins. Plugins help in optimizing your content and improve the speed and SEO of the blog.
At a time many plugins can be used to add additional functionality to your website but keep in mind, more plugins lead to slow speed. So use them as less as you can.
Here I am giving you a list of must-have plugins which will be very helpful for you:
Elementor: This is the page builder in which you will find beautiful pre-made templates, with the help of which you can make your post or page beautiful according to you.
Rank Math SEO: SEO is very important for your blog to rank in Google or any Search Engine. Rank math is a great and Free SEO plugin. Some people will suggest you use YOAST SEO Plugin.
Yoast is also a great plugin but you are not provided so many features for Free as rank math does. You will have to pay for the premium features.
WP Rocket – You may already know that the speed of a website or blog matters a lot for a good ranking in Google. And this plugin makes your blog faster. As an alternative option, LiteSpeed Cache Plugin is also a good choice. We are running on it.
iThemes Security: Many times someone tries to hack your blog, then this plugin helps you in securing your entire website.
Now let me tell you how to install a plugin on the WordPress blog:
To install a plugin on your blog, select the Plugins menu in the sidebar:
Now, click the Add New button to find a plugin for your blog:
Now you will get a list of plugins here, click the Install Now button to install the plugin.
It will take a few seconds for the plugin to install. Once the plugin is installed click the Activate button on the plugin you installed.
This will activate the plugin.
Now you can start writing on your blog from the posts section, create pages (below to the posts as shown in the below screenshot)
Step 7: Publish the First Blog Article
To write a post on your WordPress blog, choose the Posts menu in the Dashboard.
Now click on the Add New button and you will get the space to write a blog post
So, here is the post editor in front of you. You have so many options here, you can add a heading to your post, text paragraphs, subheadings, you can add an image and so many other formatting options.
Never use copyrighted images in your posts, always use copyright-free images, and don't copy the content for your blog post from anywhere.
When you are done with writing and formatting your blog post, just hit the publish button and make your post live on the internet.
Step 8: Customizing Your Website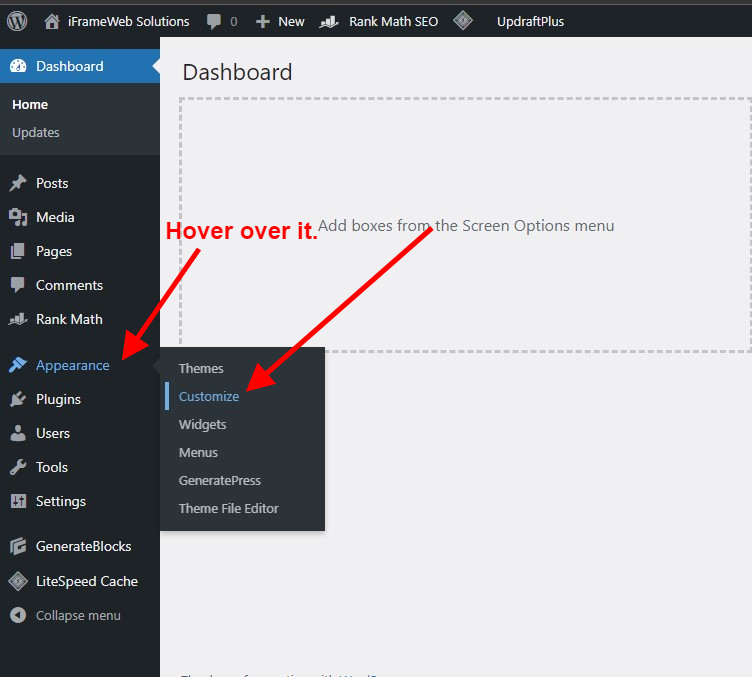 Now explore the website, try customizing it, add a logo, and favicon, create a footer, menu, sidebar, etc, and make it according to your need. When everything is done just publish it.
Step 9: Design the home page of your website on wordpress
For designing the home page:
First, install a page builder plugin (we suggested Elementor already, if you like any other, install it)
Now Go to pages, create a page, and name it Home
Edit it with elementor, you can also use premade elements and templates there. Just import and customize it with your business details.
When you are done customizing it, publish the page.
Now let's set it as your website's home page.
Step 10: Essential Tasks to Complete After Setting Up Your WordPress Website
Hover over to settings> Go to permalinks> Set the Permalink structure to "Post Name"
Setting up the Home page we create and design: Inside settings, Go to Reading and do the below settings: Select the Home page which you created in the 9th step.
After setting up your website, consider setting your timezone and enabling comment settings for approved comments to appear on your site. To fully utilize your website, take the time to explore its various features and capabilities.
For an e-commerce website or selling products/services, additional functionalities will need to be added. Stay tuned for future tutorials to learn more. If you need our help, submit your details here and we will help you get a website for your business.
Congratulations! Now you have created your business website with your custom home page.
Frequently Asked Questions
What is WordPress and how does it work?

WordPress is a content management system (CMS) that allows users to easily create, manage and publish a website without having to learn to code.

Is WordPress free?

Yes, WordPress is free & open-source software, but you'll need to purchase a domain name and hosting to get your website up and running.

Do I need coding knowledge to create a WordPress website?

No, you don't need to know how to code to create a WordPress website, but it can be helpful if you want to make customizations.

How do I choose a theme for my WordPress website?

Choose a theme based on your needs, the type of website you want to create, and the features you want it to have. You can choose from a free theme or purchase a premium one.

How do I add and manage content on my WordPress website?

WordPress has a simple dashboard where you can easily add and manage content, including pages, posts, images, and more.

Can I add e-commerce functionality to my WordPress website?

Yes, you can add e-commerce functionality to your WordPress website by using WooCommerce, or other plugins.

Is it easy to customize my WordPress website?

Yes, it is easy to customize your WordPress website by using plugins, themes, or custom code.

How do I ensure my WordPress website is secure?

You can ensure the security of your WordPress website by using a strong password, keeping your plugins and themes up to date, and using a security plugin.

How do I optimize my WordPress website for search engines?

You can optimize your WordPress website for search engines by using plugins, such as Rank maths, and Yoast SEO, and making sure your website is mobile-friendly, fast, and has high-quality content.
Conclusion
In conclusion, starting a business website is a crucial step towards growing your brand and reaching out to a wider audience. By following the steps in this article, you can easily create a wordpress website for your business and start leveraging the benefits of an online presence.
From choosing the right domain name and web hosting provider to set up a user-friendly website with a great design, this article has covered all the essential steps.
By using a platform like WordPress, you can easily manage and update your website, without the need for technical expertise. You can also use plugins and themes to add various functionalities and customize the look and feel of your website.
In summary, if you're looking to take your business online and establish a strong online presence, then this guide should help you get started. With a well-designed website, you can attract and engage your target audience, showcase your products and services, and ultimately grow your business.
All the best for your business. Please Share this post every single share counts to us! I appreciate your effort.
If you are facing any problems or need our help, contact us today! We'll help you get a professional website for your business.